I'm always amused when a young major-gifts officer candidate has the impression that the job is just a cakewalk, wining and dining with the rich and famous. From the outside, it might look like nothing more than eating at nice restaurants or spectacular homes and sipping cappuccinos at fancy coffee shops.
Once on the major gifts job, the impression quickly dissipates. The research and preparation can be grueling, especially when you're learning the ropes. There's lots of travel, which can be hard, especially if you have a family at home. No one I know likes cold-calling prospects. And the thought of striking up conversations with strangers terrifies some people. But if you're good with people and love the mission, meeting with major donors can be a great fit.
Still, it takes more than personality fit and passion to win at major gifts. You have to have the right mindset, and you have to develop the skills and virtues proper to your trade. Nothing kills passion faster than unrealistic expectations, lack of preparedness, and unexpected "no's" from the donor that you thought was this close.
In my years of working in major gifts and capital campaigns, I've found these four traits make the difference between winning and losing at major gifts: authenticity, humility, prudence, and persistence.
Virtue #1 for Major Gifts Officers: AUTHENTICITY
The old adage holds up well: people give to people. And people who have lots of money have earned it or grown it by being good at reading other people. They're not going to deal with dishonest fundraisers. Know who you are (including how you come across), what your gifts are, and what your shortcomings are. When it comes up in conversation—and it will—be honest about why you're in your current role, and why you support the organization's mission. If you're feigning enthusiasm for the mission or only pretending to care about the potential donor, they'll know it. The job isn't (merely) about bringing in money—it's about building relationships with people with whom you share a common purpose. You are there to get to know a person and help them fulfill their philanthropic vision by inviting them to participate in the mission of your organization. If you just see them as an ATM full of thousand-dollar bills, you'll be back in your rented Ford Focus before dessert.
Virtue #2 for Major Gifts Officers: HUMILITY
Knowing you don't have all the answers is invaluable for building a good life full of the most important things. The same is true when it comes to meeting people whose wisdom and experience are often hard-earned and worth hearing. The donor, after all, has more to offer than just money. Another fundraising adage that has held up well over time is "If you ask for advice, you get a gift. If you ask for a gift, you will get advice." If this person is a serious donor, he or she is going to be invested in the mission, and probably has years of experience in business or life that can be helpful. Seeing the meeting not about your deadline or quarterly target, but about building trust with someone who deserves your respect can only help you earn credibility—your greatest asset.
Virtue #3 for Major Gifts Officers: PRUDENCE
The top "cardinal virtue," according to the ancient Greeks, was prudence, or "practical wisdom." Prudence is indispensable to a good life and it's indispensable to good meetings. In fundraising, the primary prudential concern has to do with being prepared for your meeting, which my colleague Justin Streiff handles well here. What I want to highlight about prudence here for MGOs is two things about dealing with donors: patience and attentiveness. All relationships take time to gel, so don't be in a rush to get to the ask. And whatever you do, never—ever—ask for the person's largest gift amount in the first meeting. In fact, before you ask for anything, get to know the person, and be prepared to listen for a while. By "listen" I mean really being attentive not just to the content of the answer, but what they're excited about, or bothered by. Ask why they care about the issues that brought you together, and listen carefully to the answer, making notes as soon as you're alone. Before you go, ask for another meeting and when it would be best to get back in touch. Remember, you want a reason to get together again, so you don't have to share everything about your mission all at once. It's hard to say anything more specific in a space like this, since every person is different, and getting to know the person before going straight for the ask demonstrates to the donor the prudence and respect that your organization wants you to portray on its behalf.
Virtue #4 for Major Gift Officers: PERSISTENCE
The way we put it at AmPhil is "Doing the right things, the right way, consistently and over time." Don't get cocky when the big gift—or a few of them—comes in. And don't get discouraged when an ask is denied—take the opportunity to learn more about the donor and what they're thinking or feeling. It may be that their business has been struggling, or they're dealing with some other difficulties. Maybe they're tapped out because they invested in an organization that caught them at the right time. The person is what matters, not their willingness to write a check at a given moment. See every "no" as a chance to learn, and to cultivate the donor relationship. Cultivate, cultivate, cultivate.
Fundraising is about people (and your relationship with them) and the mission you both care about. Your job is bringing those two things together: your donor or potential donor and the mission you love. Visiting the mansion in Scottsdale, Barton Hills, or Long Island will be much more enjoyable and productive for all involved if you're authentic and humble. And bringing these traits with you is much easier if you've been prudent and persistent in research, preparation, and cultivating the donor relationship.
Major gifts officers who are good at what they do make it look easy because they've mastered the little things that make big gifts possible.
About the Author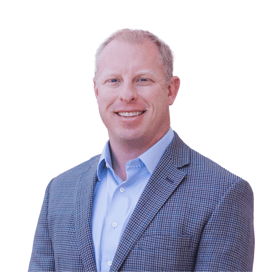 Chris Kuetemeyer is a partner and leader of AmPhil's consulting division and he has over twenty years of fundraising and leadership experience in the nonprofit world. Chris has gained experience from working for various organizations and life experiences, including the group FOCUS, where during his tenure, he spearheaded the transformation of a small development team raising $1,000,000 into a fundraising powerhouse with over 30 full-time staff and annual commitments of $25,000,000. Chris was commissioned as an officer in the Army National Guard and later spent a year deployed to Iraq, for which he was awarded the Combat Action Badge and the Bronze Star Award Medal.
Chris resides in Denver, Colorado, with his wife, Elizabeth, and their four children. In addition to his work in fundraising and executive leadership, he has served as the vice president of the governing board of a public charter school, Addenbrooke Classical Academy, where three of his children are students. Additionally, he serves on the parish council for Christ on the Mountain Catholic Church and the Provincial Council for the Capuchin Province of Mid-America. Chris enjoys reading, working out, following the Denver Broncos, and being with his wife and kids. Connect with Chris on LinkedIn here or contact him anytime at ckuetemeyer@amphil.com.