Success in fundraising depends upon setting realistic goals and crafting an actionable strategy. A gift chart can guide you through setting goals and putting a strategy into action. Here's how to build one.
You've heard this type of rhetoric before and it sounds good, it sounds fair—but it never happens.
If every one of us in this room gave $100 we'd reach our goal."
In order to actually achieve your goals as a fundraiser, you need to be more strategic. Gift charting is a practical fundraising exercise that helps us to do just that. A gift chart presents the approximate number of donors needed at various levels to achieve a fundraising target.
The gift chart is most often used for large capital campaigns, but it should be used for any fundraising initiative, including your annual fund or even an event that is dependent on sponsorships or auction items. Gift charting should be one of your first steps in development planning in order to determine if your goals are realistic and to help you craft a strategy.
The fundraising fundamental behind the gift chart is that you will raise most of your money from a relatively small number of donors contributing major gifts. Think of Pareto's Principle, or what is known as the 80/20 rule. The gift chart helps you understand how this will look for your particular fundraising initiative.
LET'S BUILD A GIFT CHART
Say you need to raise $4 million.
The first step is to estimate what your largest gift may be to the campaign. If you have a decent indicator of what this may be, you're off to a very strong start. If you don't have a good indicator, that is a sign your major gifts program is underdeveloped. Don't let that discourage you—but do take it as a sign you need to be cultivating your major donors more.
If you don't have a prospect, past donor, or foundation that you've already been in conversation with about a gift, then make the top gift in your chart 15-25% of your goal (and even up to 30% of your goal). What your top gift will be influences the rest of the chart—so consider this carefully. The top gift also has the greatest margin of error. But keep in mind that this tool is meant to be predictive not determinative.
Let's say your largest gift will be 25% of your $4 million goal, or $1,000,000.
The second step is based on a couple more fundraising fundamentals—simple ones, but often forgotten. First: people will only give you money if you ask them. Second: not everyone you ask will say yes. Therefore, to get the number of 'yes' responses you need, you're going to have to ask a lot of people to consider a gift in each target gift range. You need at least four quality prospects for every gift that you need.
A quality prospect is someone who has the capacity to give a gift at the requested level (known through giving history, research, local knowledge, etc.) and has an affinity for your organization's mission.
Let's set our ratio at 4:1.
For your one $1 million gift, you'll need four quality prospects to cultivate and solicit for a gift—and for all subsequent levels, you'll need four times the number of prospects than the number of gifts you need.
The third step is to build out the rest of the chart. To do this, we'll build out the various gift levels (or ranges) and the number of gifts needed at each level. Here we rely on an important fundraising maxim: fundraising is an art that likes math.
With our top gift set and a prospect-to-donor ratio established, we can build out the rest of the chart. A widely used method for the gift levels is to take the top gift and halve it; then halve that number—then keep working down until you get to what your organization considers a low-end major gift. For the purposes of our example, we'll call that $2,500. Building the chart in a spreadsheet and using formulas will make this easy—and easily edited or manipulated as necessary.
Now that you've built the chart, make it your own.
The fourth and final step is to make the chart your own and tweak the numbers until it seems realistic for your organization—but don't allow yourself to drift away from the fact that the success of your campaign will depend on major gifts coming from a relatively small number of donors. A realistic chart will be a challenging chart. And over-editing the chart—drifting away from reality—will set you up for failure.
***
With your gift chart built out for your fundraising initiative, you can now compare your donor base and your prospects against the gift chart. How does it compare? Does it look realistic? It doesn't need to be perfect, but it should be reasonably close. For instance, if you need forty $5,000 donors, and you only have ten donors and five prospects, you have your work cut out for you—or you may need to revise your goals. You may be able to attract donors who are not currently in your database or on your radar. That is hard to predict, but the chart will clearly demonstrate your need.
Keep in mind that with a capital campaign, your goal will be more dependent on major gifts. Your gift chart should reflect that. With an annual fund appeal, your chart will have more mid-level and small gifts helping you to reach your goal. For an annual fund, as a rule of thumb, the top gift shouldn't be more than 5-10% of the total goal—unlike capital campaigns, annual funds should never be dependent on rare, extraordinary gifts.
The gift chart is an essential planning tool for fundraisers, as it shows you exactly what you need if you stand a chance to be successful. It's also an extremely useful solicitation tool—but we'll save that for another article.
About the Author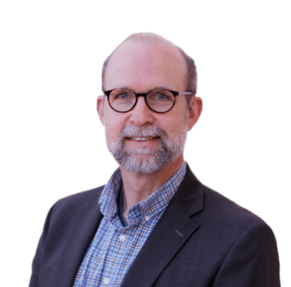 Scott Bucko is a Managing Consultant for AmPhil and has served in the nonprofit sector since 1996.
Prior to joining AmPhil, he provided institutional leadership as the director of mission advancement for the Newman Center at the University of Pennsylvania and Drexel University. He consulted numerous organizations with mission advancement and fundraising in his role at the Catholic Foundation of Greater Philadelphia while also assisting with back office support and major gift strategy for the annual $10 million Catholic Charities Appeal and the annual $3 million St. Charles Borromeo Seminary Appeal. He was proud to be a capital campaign director for CCS Fundraising and the Archdiocese of Philadelphia during its historic $200 million capital and endowment campaign completed in 2010.
Scott leverages this varied experience to assist nonprofit leaders in cultivating health in their organizations and thinking boldly and wisely in their strategic planning and decision-making. He provides counsel in organizational audits, major gifts, capital campaigns, annual appeals, and marketing and communications, always seeking to help his clients to be worthy of philanthropic support.
Scott is always learning and growing, but along the way he has earned a M.Ed. in educational leadership from the University of Virginia, an M.A. in Christian studies from Regent College at the University of British Columbia, and a B.S. in agricultural and applied economics from Virginia Tech.
Connect with Scott on LinkedIn here or contact him anytime at sbucko@amphil.com.